TKR5603 – MT410 1/10th Electric 4×4 Pro Monster Truck Kit
Out of stock
Product Description
Tekno RC is proud to announce the newest addition to our stable of innovative RC vehicles – The MT410 1/10th Electric 4×4 Pro Monster Truck Kit.  The MT410 isn't your basic, bare-bones, cheap plastic monster truck.  It is based on the critically acclaimed ET48 platform that is raced at the highest levels of competition.
If you are interested in upgrading or just want the best handling and most durable monster truck, the MT410 is for you. Many electronics, tires and bodies from popular monster trucks are a direct fit (see compatible bodies and wheel/tires tabs below).
But why bother with a high-end MT kit?  Simple, there's always room for improvement, and in this case, the leap in performance and durability over what the market currently has to offer is astounding.  We are using high-quality CNC machined parts (chassis, shock towers, shock bodies, motor mount, hinge pin braces, etc.) that you simply won't find on basic RTR MT's.
Parts and upgrades are readily available from hundreds of dealers around the world.  A lot of them are probably in your tool box already since the MT410 shares parts with the ET48, EB48, and other popular Tekno RC vehicles.
Don't be afraid to build your own MT; The instructions are easy to follow and our customer service is second to none if you need a little help.  Most of all, we wanted to have some fun when we're away from the track (or while at the track in between rounds).
(Images below may differ from actual kit contents. No Wheels/Tires/Body or Electronics included)
[nggallery id=13]
With the MT410, we are presenting a new standard of performance and value to customers without compromising on the great qualities that Tekno RC has established.
MT410 Features:
Thick 4mm CNC Aluminum Black Anodized Chassis
Easy to Build Kit with Detailed Instructions for All Skill Levels
Super Smooth Threaded 16mm Big Bore Shocks
Variety of Motor/Battery Configurations Accommodated
Wide Range of Body Styles and Wheels Accommodated
Best-in-class Durability and Wear
Lowest CG Available in Monster Truck Class
Many Aluminum Upgrades Throughout
Race Inspired Design and Dependability
All Metric Hex Hardware
This provides our customers with the best handling monster truck kit that also happens to be the best value on the market.
Full Feature List:
Chassis:
4mm CNC aluminum black anodized chassis.
Super narrow layout – widest point is only 125mm (less than 5") mudguard-to-mudguard.
Class leading front and rear clearance (short chassis overhang) provides better bump handling and jump landing.
Adjustable, LCG lightweight body mounting system fits most popular MT bodies (Proline, JConcepts, etc.).
Lightweight, extremely durable front and rear bumper system.
Integrated battery tray/mud guard, battery is sunken into chassis for a super low CG.
Integrated electronics tray/mud guard for easy removal of electronics.
Spacious, enclosed, easy access radio box with integrated transponder mount.
Adjustable chassis brace system for fine tuning flex with front, center, and rear braces.
Motor Mount:
2-piece CNC aluminum motor mount with precision dual clamping gear mesh adjustment.
Split center diff mount for easy maintenance.
Lightweight direct-to-diff mount design.
Uses standard MOD 1 pinions.
Differentials and Drivetrain:
3 fluid filled adjustable super lightweight diffs.
Less rotating mass = better acceleration.
Lightweight straight center driveline for maximum efficiency and reduced wear.
CV driveshafts with captured pins on all 4 wheels.
Standard 17mm hexes fits most popular MT wheels.
Shocks:
16mm bore hard anodized shocks – Biggest-in-class!
4mm 7075 aluminum shock towers are standard.
Innovative conical piston design (not just tapered) provides varied compression and rebound rates.
Fully adjustable long travel suspension geometry maximizes stability and traction while soaking up any bumps and jumps.
CNC aluminum threaded shock bodies.
4mm hardened steel polished shafts.
Triple guide design for true consistent shaft action.
Options for vented/emulsion/standard shock configurations out of the box with supplied plastic shock caps.
Optional springs and sway bars available.
Suspension and Steering:
Bulletproof suspension arms – thicker and stronger than the competition.
Adjustable front arm sweep and angle to make the car more aggressive (swept forward), or easier to drive (swept back).
'Narrow pivot' steering posts provide '0 bump' geometry with almost 0 steering slop.
Adjustable hinge pin braces are standard (toe, anti-squat, kick-up, front arm sweep).
4mm inner, 3.5mm outer hinge pins, polished for smooth action.
Adjustable Ackermann and bump-steer (bump in, 0 bump, bump out).
Steering system is fully supported on precision ball bearings.  No bushings here.
Straight rod ends and lightweight turnbuckles.
Other Features:
Exceptional wear characteristics.  Leave the slop and warping to the other guys.
Easily adjust anti-squat, rear toe, front arm angle, front arm sweep, roll center, toe, camber, wheelbase, Ackermann, bump steer, suspension geometry out of the box..
Extremely easy to work on with minimal screw count.
Shares many parts with our EB/NB/ET/NT48 = less parts in your toolbox.
All metric hex hardware.
100% Tekno RC Designed and Tested in Southern California.
Specifications:
Length:  530mm
Wheelbase:  323-335mm
Width:  420mm
Weight:  ~3850g (8.3lb) out of the box RTR (RTR weight equipped w/ Tekin RX8, 2200kv truggy motor, 700g battery, rx, etc)
Diff Ratio:  F/R – 10/40t, Center – 44t
Battery tray dimensions: 50x148mm
Kit/RTR: Kit
Additional equipment and parts needed:
2 channel radio/transmitter
Monster truck body and paint (or equivalent size body)
1/8th scale ESC and motor system
High torque steering servo (at least 350 oz/in)
4s (4 cell, 14.8v) LiPo battery (at least 5000mAh)
1/8th scale Monster Truck tires, wheels & CA glue (or premounts)
MOD1 Pinion 15 tooth – 25 tooth (TKR4175 – TKR4185)
Tools needed:
Hex drivers 1.5mm (TKR1104), 2.0mm (TKR1105), 2.5mm (TKR1106)
Nut drivers 5.0mm (TKR1107, 5.5mm (TKR1108), 7.0mm (TKR1109)
17mm Wheel Wrench
Hobby knife
Needle-nose pliers
Shock tool (TKR1115) OR adjustable (Crescent) wrench (for shock assembly)
4mm turnbuckle wrench (TKR1103) – 5.5/7.0 two sided wrench (TKR1119)
4mm arm reamer (or #19 drill bit)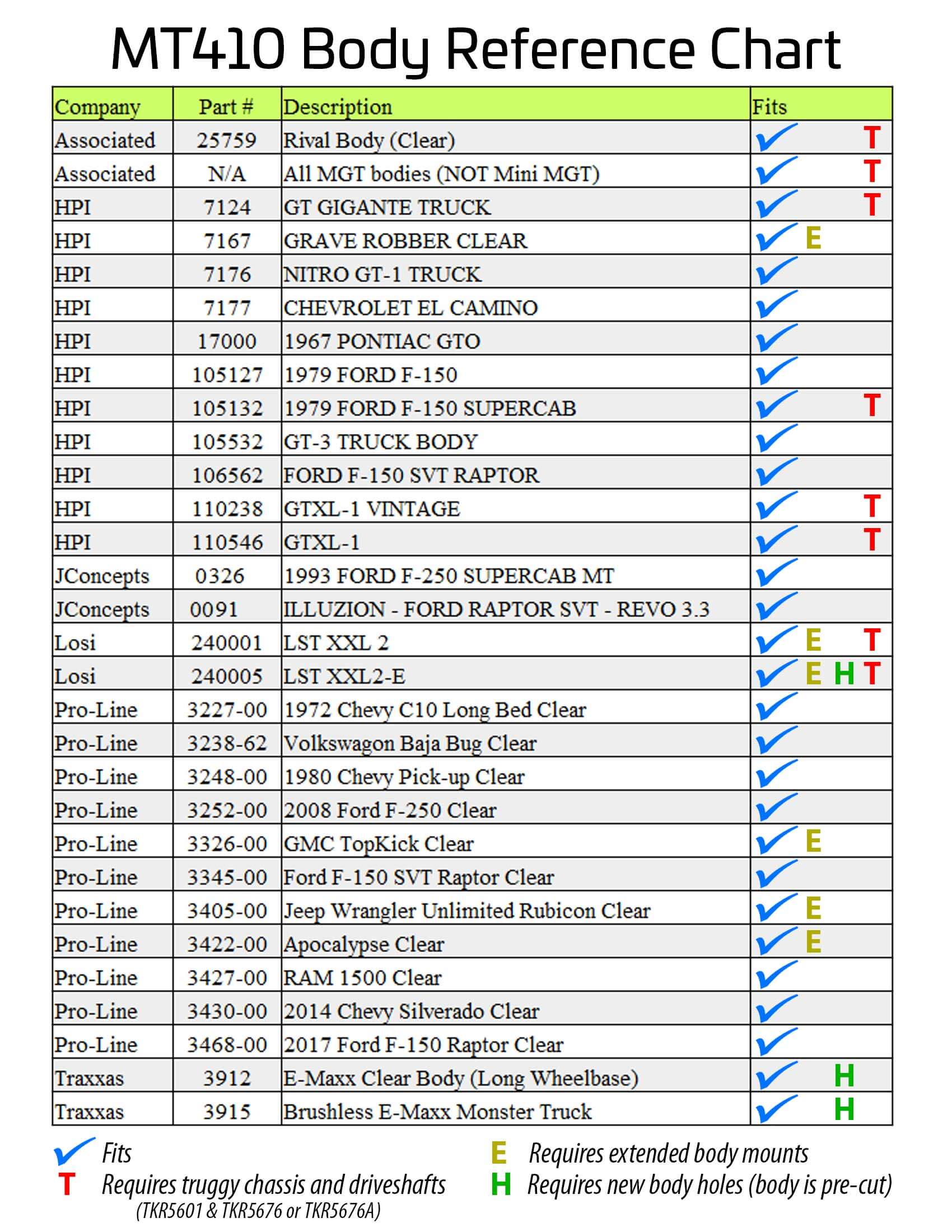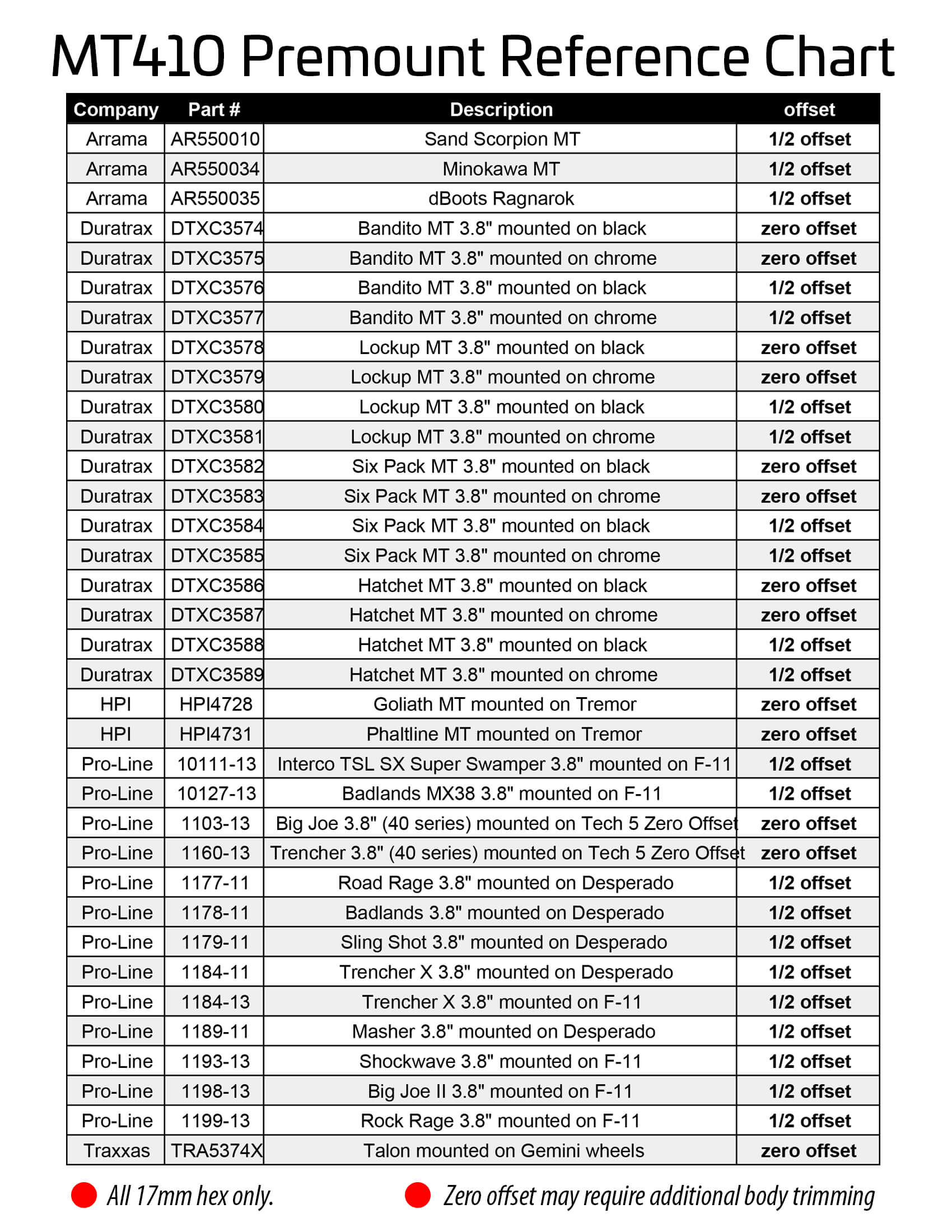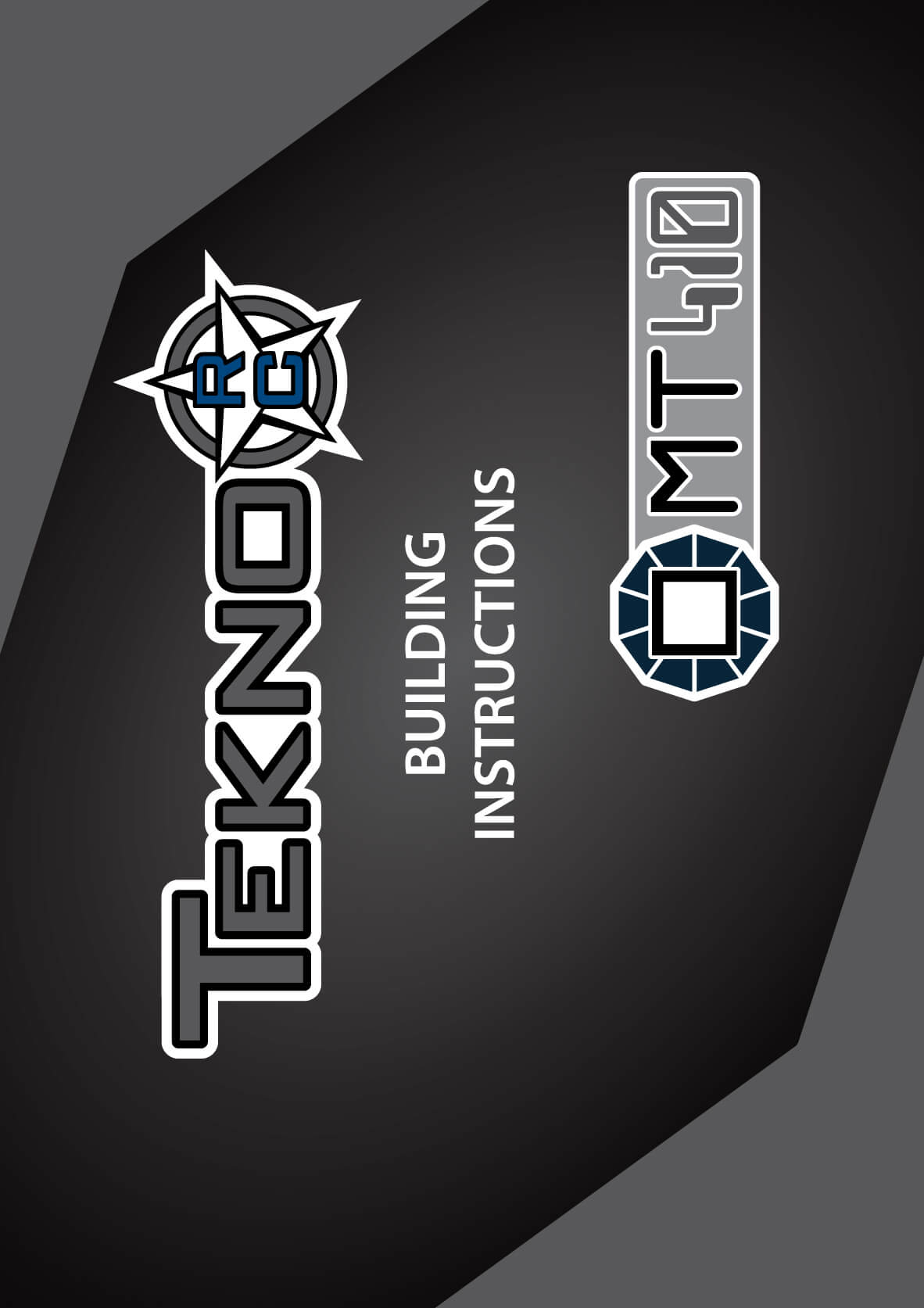 Blank Setup Sheet:
MT410 blank setup sheet – (editable, savable)
Filled Setup Sheets:
Looks like we don't have filled setups for this vehicle yet. No setups found in the mt410 directory.
If you would like to send us a setup sheet, please go to contact-us and select "Submitting a Setup Sheet".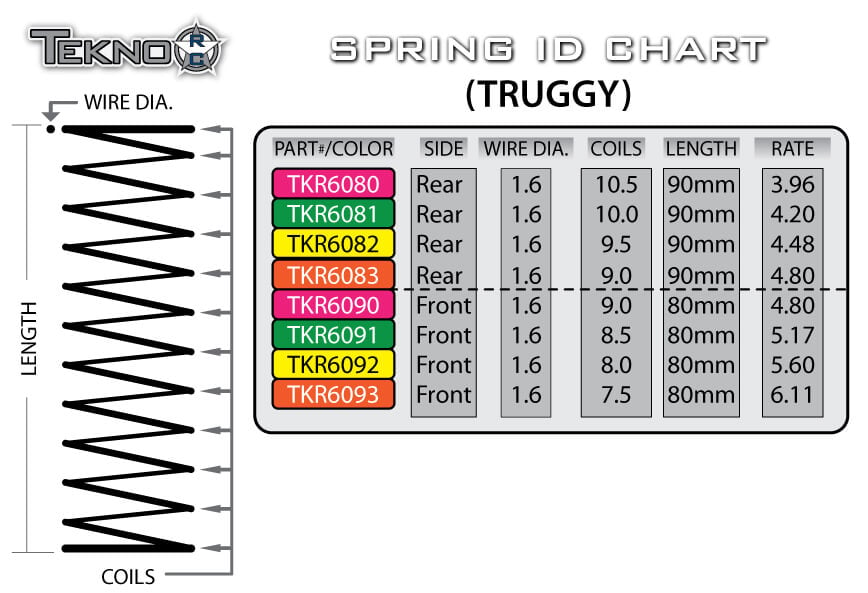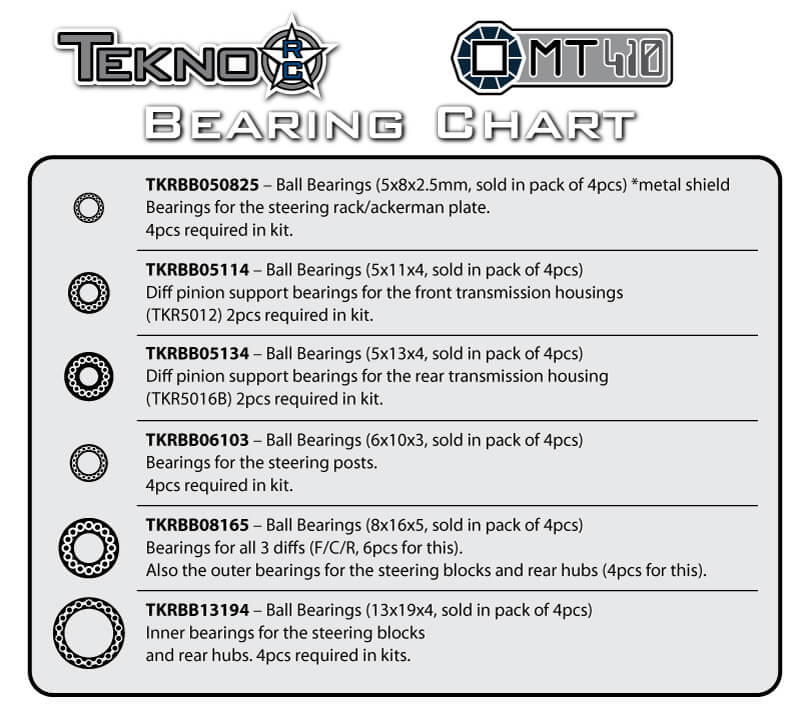 Desktop Wallpapers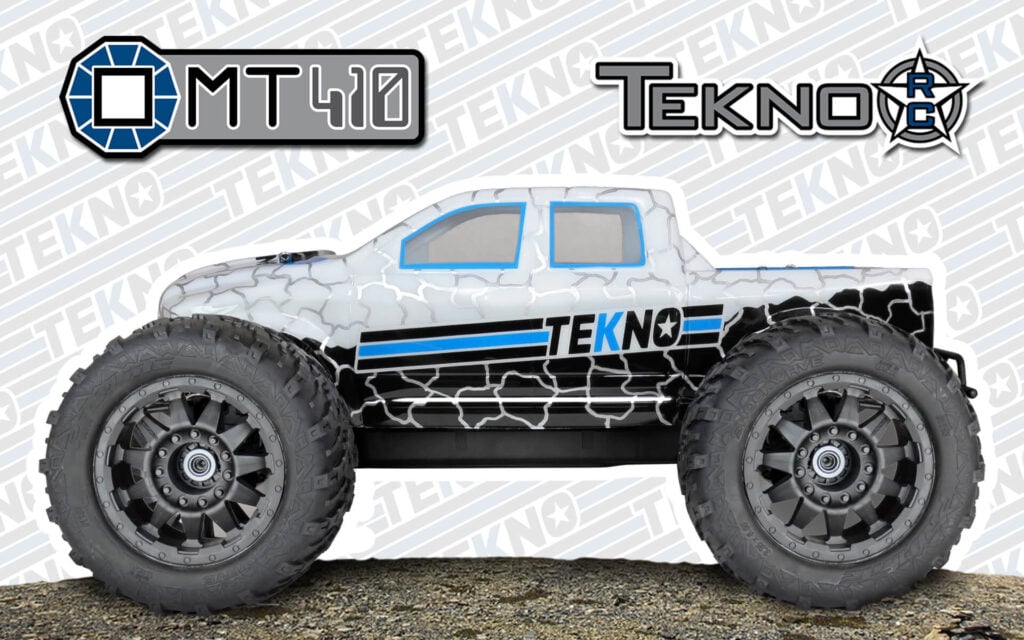 Regular Screen 1920×1440 Image
Shipping Specs.
| | |
| --- | --- |
| Weight | 7 lbs |
| Dimensions | 15.6 × 9.25 × 5.6 in |