TKR5602 – ET48.3 1/8th Competition Electric Truggy Kit
Out of stock
Product Description
Since the release of the original ET48 in December of 2013, we have been continually improving our products.  Over the years we have tested hundreds of parts, released dozens of meaningful options, and we have improved the overall setup of the ET48.  The original ET48 was a huge improvement on the truggy platform in general and has enjoyed incredible success around the world.  Now it's time to introduce the ET48.3 – the new standard in the 1/8th Electric Truggy class.
[nggallery id=11]
New rear hubs (TKR5199) allow the option of using the stock CV axles or upcoming universal driveshafts.  We now also offer the rear hubs in aluminum as an option (TKR5199A).  At the front of the vehicle are new trailing steering spindles (TKR5193) and spindle carriers (TKR5194).  The trailing components vastly improve high speed bump handling in addition to smoothing out the steering response.  The vehicle initiates turns more predictably and finishes corners better than ever before.  Larger bearings are now fitted to the front spindles for improved durability.  The spindles will also accommodate the upcoming universal driveshafts.
The V2 hinge pin braces (TKR5161, TKR5162, TKR5163, TKR5164, TKR5165) have found their way into the new kit.  They provide more adjustability than ever before.  For example, changing the roll centers at the hinge pin is now an easy task and allows you to set up the vehicle for any conditions. Front arm sweep, kick-up, rear anti-squat, and rear toe are all adjustable.
Our low profile wing mount (TKR5181) is included to lower the CG of the whole vehicle.  A revised front bumper (TKR5166) increases front ground clearance.  Straight camber link rod ends (TKR5187) were produced to improve consistency in corners.  Maintenance is easier with the addition of the split center differential mount (TKR5260, TKR5263). Clamping spring perches (TKR6140) and new shock boots (TKR6144, TKR6145) are also included to keep the shocks clean, smooth, and trouble free.
Finally, the box setup has been tuned by some of the best drivers in the world to give our customers a vehicle that they can confidently drive in most conditions.  With the extensive list of adjustments and improvements, it is easier than ever to tune the vehicle to your driving style and track conditions.
ET48.3 New Features:
New trailing front spindles and spindle carriers
New V2 hinge pin braces and inserts
New clamping spring perches with captured shock boots
New rear hubs
Low profile wing mount
Revised bumper for increased ground clearance
New split center differential mount
New straight turnbuckle rod ends
New tapered aluminum front center driveshaft
New easily adjustable droop screws
Revised shock standoffs for easier droop measurement
Updated setup sheet for improved handling
Chassis:
Proven design
Designed to be electric from the ground up – no nitro conversions here!
4mm CNC 7075 aluminum hard anodized lightened chassis.
Super narrow chassis layout – widest point is only 125mm (less than 5") mudguard-to-mudguard.
Class leading front and rear clearance (short chassis overhang) provides better bump handling and jump landing.
Integrated battery tray/mud guard, battery is sunken into chassis for a super low COG.
Adjustable, LCG lightweight wing mount.
Integrated electronics tray/mud guard for easy removal of electronics.
Spacious, enclosed, easy access radio box with integrated transponder mount.
Single pack configuration is better balanced, lighter weight, and makes battery changes easier. Battery tray accommodate 2x2s packs.
Adjustable chassis brace system for fine tuning flex with front, center, and rear braces.
Motor Mount:

2-piece CNC aluminum motor mount with precision dual clamping gear mesh adjustment.
Split center diff mount for easy maintenance.
Lightweight direct-to-diff mount design.
Uses standard MOD 1 pinion gears (TKR4171-TKR4190).
Differentials and Drivetrain:
3 fluid filled adjustable super lightweight diffs.
Less rotating mass = better acceleration.
Lightened outdrives and diff couplers used throughout.
Aluminum tapered aluminum center driveshaft.
Angled rear gearbox with large bearings reduces wear.
Straight center driveline for maximum efficiency and minimal wear.
CV driveshafts with captured pins on all 4 wheels.
Shocks:
Super smooth 16mm big bore shocks.
6mm front, 5mm rear CNC 7075 aluminum gun metal anodized shock towers are standard.
Fully adjustable long travel suspension geometry maximizes stability and traction while providing superior cornering and on-power steering.
CNC threaded shock bodies, caps, cartridge caps, and adjustment nuts.
4mm hardened steel polished shafts.
New clamping spring perches with captured shock boots.
Triple guide design for true consistent shaft action.
Options for vented cap, emulsion, or standard shock configurations.
Optional springs and sway bars are available.
Suspension and Steering:
Adjustable front arm sweep and angle to make the car more aggressive (swept forward), or easier to drive (swept back).
'Narrow pivot' steering posts provide '0 bump' geometry with almost '0 steering slop'.
Adjustable CNC 7075 hinge pin braces are standard.
4mm inner, 3.5mm outer hinge pins, polished for smooth action.
Adjustable Ackerman and bump-steer (bump in, 0 bump, bump out).
CNC aluminum Ackerman plate rides on 4 precision bearings.
Adjustable steering stops for precise steering travel settings.
Other Features:
High downforce wing included.
Easily adjust anti-squat, rear toe, front arm angle, front arm sweep, roll center, toe, camber, wheelbase, rear arm length, Ackerman, bump steer, suspension geometry out of the box.
Full set of option parts available.
Extremely easy to work on with minimal screw count.
All metric hex hardware.
Specifications:
Length:  595mm
Wheelbase:  375-385mm
Width:  416-420*mm (*optional hubs required)
Weight:  4000g (9.0lb) (weight varies with equipment and battery used)
Diff Ratio:  F/R – 9/40t, Center – 44t
Battery tray dimensions: 50x148mm (2x2s or 1x4s config)
Kit/RTR: Kit
Needed to complete:
2/3 channel radio/transmitter
1/8 Scale ESC and motor
High torque steering servo (at least 300 oz/in of torque), optional brake servo
Pinion or Traktion Drive / Elektri-Clutch system
4-6s LiPo battery
1/8th scale truggy tires, wheels & CA glue
Paint for body
Hex tools (1.5, 2.0, 2.5mm), pliers, other tools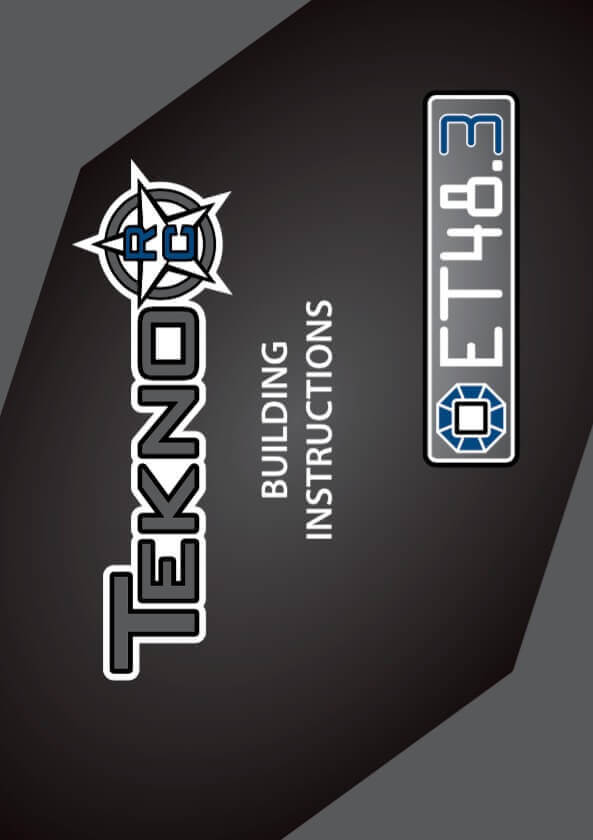 Blank Setup Sheet:
ET48.3 Blank setup sheet – (editable, savable)
 
Filled Setup Sheets:
If you would like to send us a setup sheet, please go to contact-us and select "Submitting a Setup Sheet".
Shipping Specs.
| | |
| --- | --- |
| Weight | 8 lbs |
| Dimensions | 19.75 × 9.15 × 6.5 in |